6 November 2017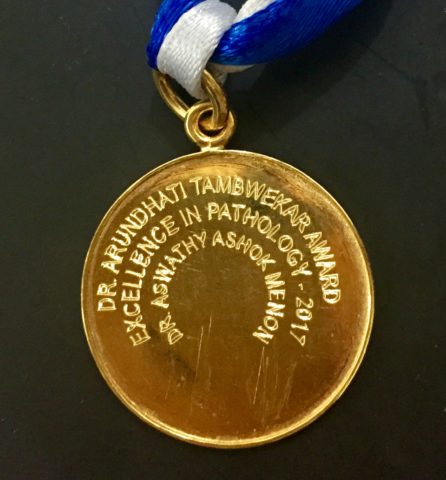 This year's award goes to Dr. Aswathy Ashok Menon, MD Dept of Pathology at CMC Vellore.
Dr. Aswathy has had a stellar record all through her career as a doctor. She did her MBBS from Amrita Institute of Medical Sciences, Kochi, in 2013. During the course of her undergraduate degree, she won Gold medals in Pathology, Pharmacology, Obstetrics and Gynaecology, and also the Amrita Kiran award for all round excellence in MBBS course.
While doing her MD and residency at CMC Vellore, Dr. Aswathy also won the first prize for paper presentation at Annual Research Day 2016 at CMC, Vellore.
Congratulations, Dr. Aswathy! The Pursuit of Excellence never ceases. Continue to strive for excellence, keep your values and passion intact. We wish you the very best !